Why Jobs are Not the Answer
Topic: Commentary
President Obama recently gave a speech in which he decried growing inequality in America, and minorly touched on the subject again during his State of the Union address (though he chose to focus much more on "creating jobs"). Since Obama's December speech on inequality, the topic of economic inequality has become more common in popular media, but again it seems that the vast majority of people fail to understand the basic root causes of inequality. One thing that I've commonly heard is the claim that inequality can be reduced simply by reducing unemployment. This is not only completely false, but is in fact the opposite of the truth.
The chart below shows both the unemployment rate and the percentage of income going to the top 1% of receivers over roughly the past 100 years.
The low unemployment rate in 1916 and 1917 was a product of World War I. This does not correspond to a rise in inequality for two reasons: 1) because unionization spiked during this time and 2) during war time various economic regulations were put in place to reduce profit taking (though large profiteering was still not eliminated). Following World War I, however, we see a sharp spike in unemployment, followed by a sharp fall in unemployment during the relatively unregulated 1920s. The area shaded in blue shows the inverse correlation between the unemployment rate and income inequality. As the unemployment rate fell during the 1920s, the percentage of income going to the top 1% of receivers increased. During this time unionization was declining because of government policies and public attitudes resulting from fears of communism following the Russian Revolution of 1917. There was no federal minimum wage at this time. We also see that as the unemployment rate began going back up in the late 1920s, income inequality began declining. What this shows basically is that we had peak income inequality during the period of lowest unemployment.
Following that we have the area shaded in yellow, which goes basically from World War II to 1980. This was the "Golden Age" of the American middle-class. During this period we saw relatively low sustained unemployment, high GDP, and low income inequality. But was the low inequality a product of low unemployment? No, not at all. It was a product of government policies. As you can see in the chart, this was a period of rising minimum wages and high unionization. The rise in unionization during that time was a product of government policy and support. In addition to those factors, this was also a period of heavy economic regulation, with government imposed economic controls over many industries, like aviation, energy, banking, etc. This was also the period of maximum progressive taxation, with effective tax rates on the highest incomes approaching 90% in the 1950s and 1960s.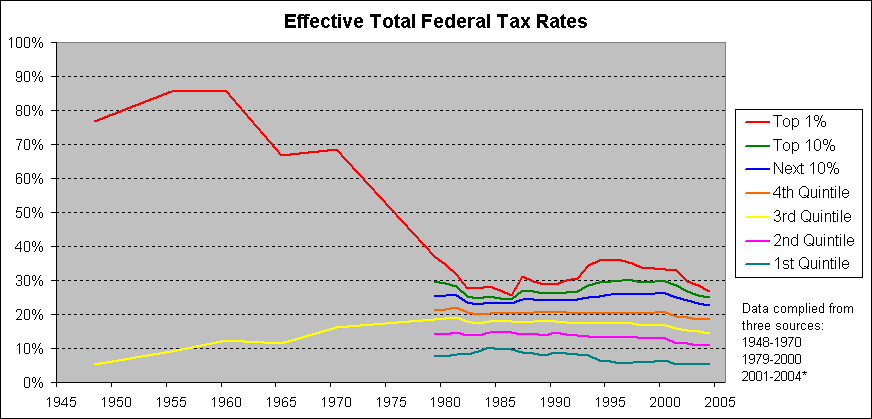 In fact even during this period we see an overall trend of rising unemployment and declining income inequality, showing that income inequality wasn't a product of low unemployment. In fact declining income inequality is more closely correlated to the minimum wage during this period than the unemployment rate.
Then we have the period shaded in red. This is the period of de-regulation, accompanied by declining unionization, a falling minimum wage, and a marked decline of progressive income taxation. As you can also see in the first chart, there is a clear correlation between the unemployment rate and income inequality. As the unemployment rate declined during this period, income inequality rose. The periods of especially low unemployment in the late 90s and early 2000s are accompanied by spikes in inequality.
People (like the president) who claim that "creating jobs" is a way to address economic inequality are completely wrong. "Creating jobs" is one way to reduce poverty, yes, that is true, but reducing poverty is not the same thing as reducing inequality. I have seen multiple people claim that a "full employment" policy would reduce inequality. Totally false. The belief among these people is that when unemployment rates get very low, the labor market hardens, resulting in rising wages, which will, on their own, reduce inequality. This simply isn't the case, as the data shows, and understanding why this isn't the case is very important.
The only times in American history that we've seen both low unemployment rates and reduced income inequality has been during World War I and World War II. Those are the only two times. Both of those periods were accompanied by high unionization rates and heavy economic controls imposed by the government, including regulation of profits. Those are the only conditions in American history in which low unemployment has been accompanied by reduced income inequality, and both of those times the unemployment rate fell below 2%, heavily influenced by the fact that tens of thousands of working age men and women were taken out of the labor pool to fight in the wars.
The reason why low unemployment rates, by themselves, don't reduce income inequality is quite simple. It's because no matter what the labor market conditions are, an employer isn't going to intentionally hire someone who won't generate revenue for the business. So, every employed worker is generating profits, at least in theory. Times of low unemployment are actually times when workers are most likely to be generating profits, because times of low unemployment are also times of high consumption. Times of higher unemployment are times of lower consumption, during which employers may retain less profitable workers over the short-run in hopes that they will need to retain that talent for times when the economy "picks up". This means that employers actually get a lower rate of return on workers during times of higher unemployment, and a higher rate of return during times of low unemployment.
In addition, even if extremely low unemployment were to reduce the rate of return per-worker, the fact that a larger number of workers are working, creating more value, means that a greater volume of profits are being generated. Basically, the more people work, the more profits are generated, which raises the incomes of capital owners. The idea that the labor market, all by itself, will "naturally" and "inherently" reduce profits for capital owners is absurd, because even in the hardest of labor markets capital owners have distinct advantages in the labor exchange transactions, as explained in my articles on capitalism: Wages and Labor Markets, Evolution of the American Economy
The way that capitalism works is that the owners of capital "get a cut" of all the value created by workers. Jobs are not charity, they are not gifts. Employers hire workers because they need workers to generate profits. The more consolidated that capital ownership is, the greater the amplifying effect of inequality, because it means that the excess value being created by each worker that goes to profits is being funneled to smaller portion of the population. And today, economic inequality in America and around the world is being driven not only by domestic working conditions, but by global working conditions. American inequality is being partly driven by the profits generated from foreign workers, in places like China, India, South America, etc. A piece of all the value those workers cerate is being funneled to a relative handful of major America capital owners.
The idea that "all we need to do" to reduce economic inequality is "create jobs" and reduce unemployment is rooted in a false belief that income inequality can be reduced through "market mechanisms", and that we don't really need to do anything significant to address it, other than "invest" and "work hard". This is completely false. Capitalism is a system that fundamentally and inherently drives economic inequality, because the entire system is predicated on transferring wealth from workers to property owners, i.e. capitalists. The more workers work, the more profits are generated, and the richer the few capital owners become. Thus, creating more jobs does nothing to reduce inequality, in fact it only increases inequality. The only things that are historically proven to reduce income inequality within capitalist economies are non-market policies, like collective bargaining through unions, minimum wage increases, regulation of executive pay, regulation of profits, regulation of markets.
Those are certainly not the only ways to reduce economic inequality, but those are the mechanisms that have been used in America and other Western capitalist economies to effectively reduce inequality in the short term. However, in my opinion, these types of policies are doomed to long term failure, because they fail to address the root cause of economic inequality in capitalist economies, which is consolidation of capital ownership. The problem with the New Deal reforms was that they did nothing to reduce consolidation of capital ownership, in fact they likely exacerbated it. The source of wealth and power is ownership of capital, and as long as a relatively small number individuals are able to retain ownership of the majority of capital there is no way to check their political or economic power over the long term.
This is why real economic reform and real reduction of economic inequality requires re-distribution of capital ownership and mechanisms to ensure that capital ownership remains permanently highly distributed among all people. In my opinion the three fundamental building blocks of economic fairness and equality are distributed ownership of capital, universal public education, and universal public insurance for all major forms of risk, such as disability, unemployment, health, and life insurance.
"Markets" are never going to reduce economic inequality. "Creating jobs" will do nothing to reduce economic inequality, it's a proven fact.
Posted by rationalrevolution.net at 7:06 AM EST |
Post Comment
|
Permalink
Updated: Wednesday, January 29, 2014 7:34 AM EST